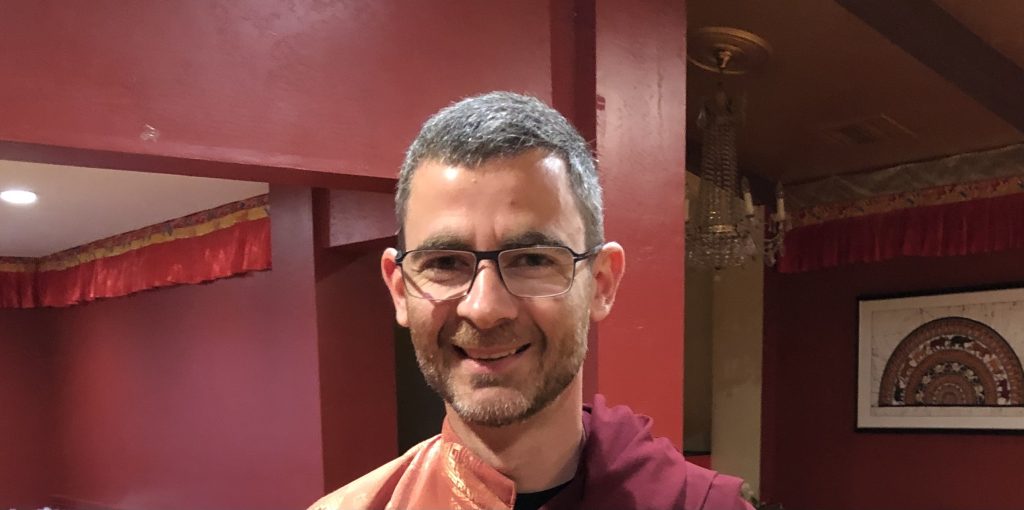 Gongjue Tuji Rinpoche, who founded and leads the Xuanfa Dharmazentrum (Dharma Center) in Cologne, Germany. He is truly a sincere, humble, and dedicated buddhist disciple and totally devoted to our Buddha Master H.H. Dorje Chang Buddha III and his yidam.
In mid-February, after H.H. Dorje Chang Buddha III entered parinirvana, Gongjue Tuji Rinpoche had been visited by the Buddha. H.H. Dorje Chang Buddha III, reassured that Gongjue would be able to receive the inner-tantric initiation, His Holiness had promised that Gongjue's yidam would make the arrangements. During Gongjue's practice, his yidam Green Tara appeared and confirmed all this as Gonjue explains in this short video.
CLICK for an article of Gongjue Tuji Rinpoche received a powerful lesson from attending the June 2018 Dharma Assembly celebrating the birthday of H.H. Dorje Chang Buddha III.
CLICK for an article from Gongjue Tuji Rinpoche on his relationship with Green Tara and how She had helped his wife through a dangerous bout of cancer at year 2013. You will see that this is not the first or only time his yidam appeared and spoke to him.
German Rinpoche Receives Guidance from H.H. Dorje Chang Buddha III
Link: https://peacelilysite.com/2022/07/21/german-rinpoche-receives-guidance-from-h-h-dorje-chang-buddha-iii/
Source: https://www.zhaxizhuoma.org/german-rinpoche/?fbclid=IwAR2iUOEue8_KoUK-MAy4bfc3IovTjIoepbAYA02P6mQYU4hZPqszF-tPEks&fs=e&s=cl
#DorjeChangBuddhaIII #HHDorjeChangBuddhaIII#DorjeChangBuddha#GreenTara#Buddhism#BuddhaMaster#Yidam#HolyVajrasanaTemple#VajraPill#XuanfaDharmazentrum#Yidam#Inner-TantricInitiation